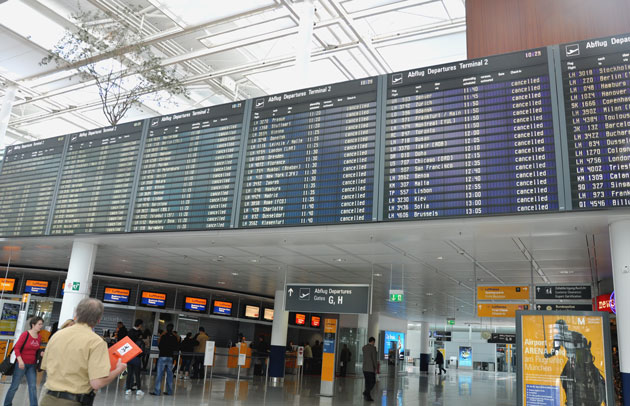 [ The Terminal ] – All EU Airplanes Grounded. 困在歐洲的第二天
Stuck in Germany but taking refuge in Austria. Munich Airport Photo above on April 19th.

Who would\'ve known. Some volcano eruption is grounding almost all the flights in Europe for almost a week now. Our flight out to New York last Sunday has been cancelled. & You cannot believe how much the crappy hotels in Munich are charging. We are looking at…. (
continue reading
…)
誰會料到一個在地球邊緣的火山會害歐洲幾乎所有的飛機停飛. 我們從慕尼黑往紐約的飛機本來上星期天要離開的, 但現在我們也是卡在這. 最慘的是慕尼黑這個星期有個三年一次的大展, 所有的 hotel 價格比 MEDICA 還高, 光 hotel 每晚至少...
.... 320 歐元起跳. 而且還是那種不怎麼樣, 2 星或 3 星的那種. 連 hostel (共用的廁所/shower) 都要140 EUR 起跳. 一般時間應該只要 50 EUR 吧.
-----------------------------------------
....320+ EUR per night. Even a crappy hostel with shared shower/washroom is charging 140 EUR per night. Well, so it happened that there's a once-in-3-yr major exhibition in Munich now, running until the end of the week. So if we stay in Munich until our rescheduled flight at the end of the week at a 3 star hotel, we are looking at 1,500 EUR – which is about the price we pay for a super nice apartment with 2 bedrooms, kitchen, living room, etc. in Kensington (a very nice area in London).


DAY 1 - Flight cancelled in the morning. Crap. What are we going to do?
Sat at Starbucks opposite from our student accomo. trying to think of plans.
星期天早上在 Starbucks. 沒飛機的話還有什麼 options.
So we managed to get a fair Munich hotel for Sunday night on Saturday. Then we ran out of choices. For Stuck in Munich – Day 1, we researched all options on internet booking sites and walked into 10 hotels/hostels nearby (we were NOT going to move anywhere else outside of the central train station area) and in the airport area. The prices were simply ridiculous for what we would be getting. And if we stay in the airport area, it's basically SUPER remote and 45 mins away from city centre and need to take their shuttle (which they charge 8 EUR each way/each person) to the airport to get to public transportation. We will be eating at the hotel for every meal then.
The issue is not that; the major thing is we don't see a definite end to this. It needs to end soon but like… WHEN??? No one seems to know.



Sick of living off the Hauptbanhof for 2 weeks already. & on Sunday, this is like one of the only few places where stores and restaurants are actually open.
這兩個星期都住在慕尼黑中央火車站附近, 這邊幾乎什麼都有. 而且星期天只有這的店有開. 所以我們幾乎就是靠這車站維生.

S-Bahn, 45min journey from Munich Hauptbanhof (area around where we had our accomodation) to Munich Airport. It\'s like almost empty.
星期一搭 45 min 的 s-bahn 到遙遠的慕尼黑機場去換我們的機票.

But for immediate shelter/hotel issue, we had to leave Munich for sure. Stuck in Munich - Day 2: 19 EUR to take a 45 min/one way train to the Munich airport to get the plane tickets exchanged. There were long line ups for delayed & frustrated travelers but most people seem positive still. If this ever happens elsewhere in Asia, maybe you'd see much more complaining, shouting and pushing around I would say.



Munich Airport - Very shiny and looks huge but there\'s like nobody.
慕尼黑機場.

Nobody nobody nobody.
沒有人的機場.
We had round-the-world ticket from Thai and were issued a paper ticket (how retro can you get!) but SERIOUSLY don't EVER get a paper ticket. It's a SUPER PAIN when you need to do a lot of things. Luckily we phoned the airline the day before our flight to rebook when we knew ours was cancelled. Because for paper ticket, you have to call the airline who issued the paper ticket first before you can even line up at the ticket counter to get anything changed.

我們拿的是泰航的環球機票. 但它們開的紙本機票真的是爛. 超麻煩的.

All cancelled.
所有般機都 cancel.

We feel sorry for all the airline ticket counter person. They feel sorry for us. We feel sorry for them too. They have to hear everyone's stories because people just want to vent. And they are being asked questions they just don't know the answers for.. like when are they lifting the flight bans??? When can we get out???
People are desperate. There are people who come to the airport every morning to see if they can get on the flights going out that day if anything is going out. The business man before us at the info counter was desperate to get out. He was booking business class for everyday – that is today, tomorrow, Wednesday, Thursday, Friday, Saturday. So.. I guess that's a lot of charges on the credit card but he was like.. "The first plane out of here, I'll be on it." I guess there are just some things that even with lots of money you just can't get.


So we're now taking the train to Salzburg to wait for our rescheduled flight out of Munich. The cost for 3 nights in Salzburg is less than 1 night in Munich and I would say Salzburg is more fun. Mozart, here we come again! We are airplane refugees taking refuge in Austria.

慕尼黑沒 ok 的地方住, 所以我們必須先離開這裡到附近的城市. Salzburg 離 Munich 1:40 mins 火車 ride. 在奧地利 & 莫札特的家. 所以是個在這待個 3 晚不會太無聊 & 3 晚的 hotel 價格比在 Munich 住一天的還低! 而且還是很新 & 很 modern hotel! No more bloody dusts!!



Train to Salzburg. Have individual cabins!
到 Salzburg 的火車, 看起來有點舊 & dusty , 但裡面有獨立的包廂.


----------
"Ever felt like you live in the airport?" That's a line from the movie "The Terminal" in which Tom Shanks played a foreigner without a visa to enter the United States but couldn't go home either so he was "stuck" in the airport for days. This is now a reality for hundreds and thousands of transit passengers throughout Europe. The airplanes in Europe have been grounded since last Thursday. Hope to see an end to this soon.